You are not accidental, existence needs you. Without you something will be missing in existence and nobody can replace it. – Osho-Zen-Tarot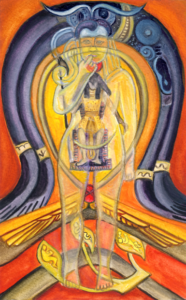 As a professional tarot reader since 1979, I have deep experience in using my intuition to suggest courses of action or attitude for my clients. I am a firm believer in free will, and can guide you to the best use of your own. Tarot readings are appropriate for anyone looking for insights on leading a more fulfilling life.
Readings may be done for specific questions about life choices or for general direction. What's on your mind? Love, health, wealth, career, home, family, spiritual path? The cards provide thoughtful guidance toward a more satisfying reality. If there is a "problem" we will also discover a way through it.
Birthday Readings – Celebrate with a special Tarot reading done within a few days of your birthday. This reading covers all aspects of your life and helps you plan for the year ahead.
Clare's intuitive Tarot reading helped me to clearly define my goals and gave me the confidence to take the next step. Her insights were right on target. – M.A.

The Mandala Deck by Clare Goodwin
The ultimate Inspiration & Oracle Cards